InspectLoop helps commerce and industry inspect sites for security, health and safety, operational or regulatory standards with an app running on a smartphone, tablet or laptop.
Work on any Device, Anytime, Anywhere
Work on smartphones, tablets and laptops. Use maps and geolocation to find the closest location. Work online or offline with synchronization.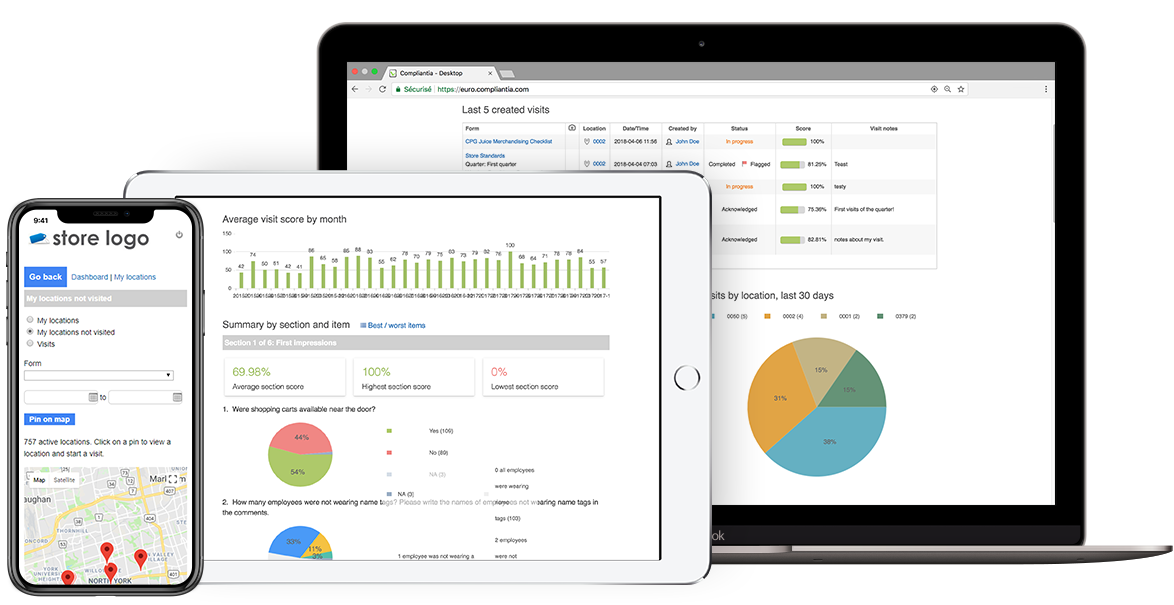 End-to-End Closed-Loop Audit Workflow
Comes with a built-in scheduler, automated scoring, maps, action plans, signatures, notifications and reminders. Out of the box powerful reports, graphs and exports to PDF and Excel™.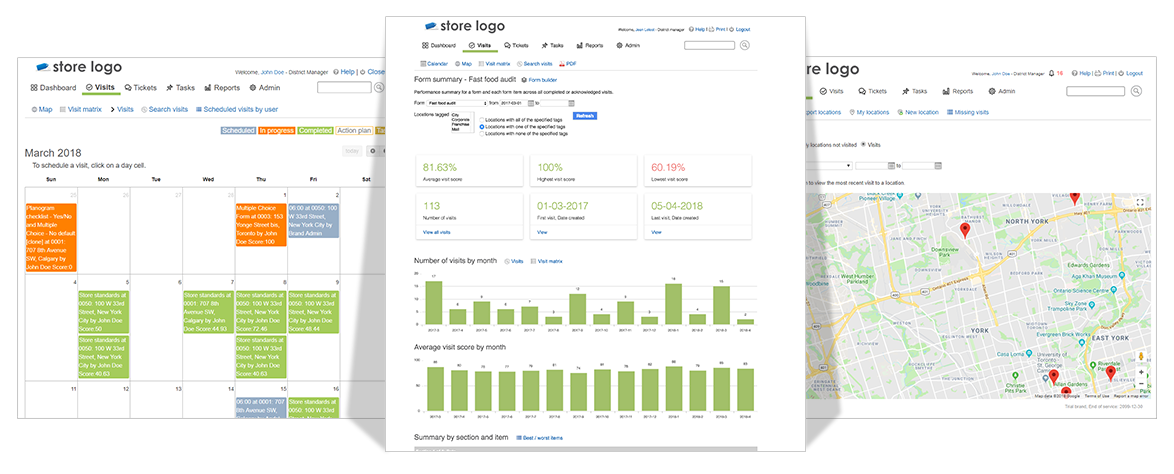 Easy Configuration and Management
It only takes a few clicks to create or import users, stores and forms. You can customize InspectLoop to implement your own business workflows, hierarchy and taxonomy. Be up-and-running in one day.
Retail Audit Best Practices
Retail Audit Costs and Benefits
Not every retailer is aware there are highly efficient, largely automated systems for handing retail audits. Some organizations have devised their own process, typically a "checklist" of some sort, usually in Excel™. It is not very efficient but it does the job and appears to be cost-effective. Is it cost-effective? Let us answer this question by analyzing how much retail audits cost, with and without automation.
It is often said that success in retail boils down to execution. How well do retailers execute today and what is the cost of merchandising execution non-compliance?
When you ask a software vendor whether you should buy or build software, you generally expect a somewhat biased answer. Let us put this (legitimate) concern aside for a minute and focus on what really matters. Should you buy or build your retail audit software?
Rapid deployment of dynamic, flexible surveys that provide insight into in-store operation.

National Operations Manager, 7-Eleven Stores
The tool has become an integral part of store visitations with our franchised network.

Manager of Operations, The UPS Store Canada
I have realized a two hour time savings per visit and we have greatly improved our ability to analyze compliance with standards.

Director of Operations, HuHot Mongolian Grill
InspectLoop is a multi faceted tool to improve follow through and field audit accountability. We have found many uses for this tool we didn't initially anticipate.

Senior Manager of Operations, Samuels Jewelers