Do you know what is happening in your stores?

Helps multi-unit retailers audit stores for operations, merchandising and loss-prevention with an app running on a smartphone, tablet or laptop.
Implementing [Compliantia] has allowed rapid deployment of dynamic, flexible surveys that provide insight into in-store operation and the ability for the organisation to make positive changes in many areas.
The tool has become an integral part of store visitations with our franchised network of stores.
We have been able to improve field execution and accountability to our brand standards through use of the Compliantia platform to document field visits.
[Compliantia] has streamlined our audit process, saved time conducting the audit, getting reports and following-up with action plan items, [...] everything is in one place now.
I have realized a two hour time savings per visit and we have greatly improved our ability to analyze compliance with standards.
The reports also allow us to show our store leaders how they perform compared to the rest of the company which sparks friendly competition between teams.
We didn't have a good audit structure before and now we do. With Compliantia we can verify and audit procedures, set goals and then audit towards them.
We use Compliantia to check for safety compliance, food safety, health standards, forecourt compliance. [...] We are driving better focus now.
Compliantia helps us ensure that none of our fundamental business processes stop, and that our field leaders have structured, well-documented unit visits.
The software has allowed us to strengthen our operational foundation and improved the consistency of measurement across the system. The reporting elements provide us with data points that will shape future project work.
We have seen a marked impact in our stores. They have gone up 25 points on average in one season. They used to score in the 60's and now they are scoring 80/85/90%. Compliantia has created more awareness and accountability at store level.
[With Compliantia] audits are faster, and forms can be easily adjusted to our client's needs. We can now provide clients with a quicker turn around and a greater depth for information gathered. This is essential for our business.
[Compliantia] has helped us achieve greater consistency, efficiency and a stronger in-store experience.
[Compliantia] gives us the capability and the data to focus in on areas of operational weakness. In particular, Compliantia helps us tie the audit process into coaching opportunities.
Made for Multi-Unit Retailers
Restaurants and food service, business and personal services, health and fitness, parking and automotive, convenience and gas, pharmacies, apparel and specialty items, furniture, supermarkets.
Merchandising, seasonal programs and promotions
Products and preparation
Service and speed of service
Equipment
Back of the store and inventory
Health and safety
Security, cash handling and loss-prevention
Store maintenance and repair
Ready to take store execution to the next level?
Any Device, Anytime, Anywhere
Work on smartphones, tablets and laptops. Use maps and geolocation to find the closest location. Work online or offline with synchronization.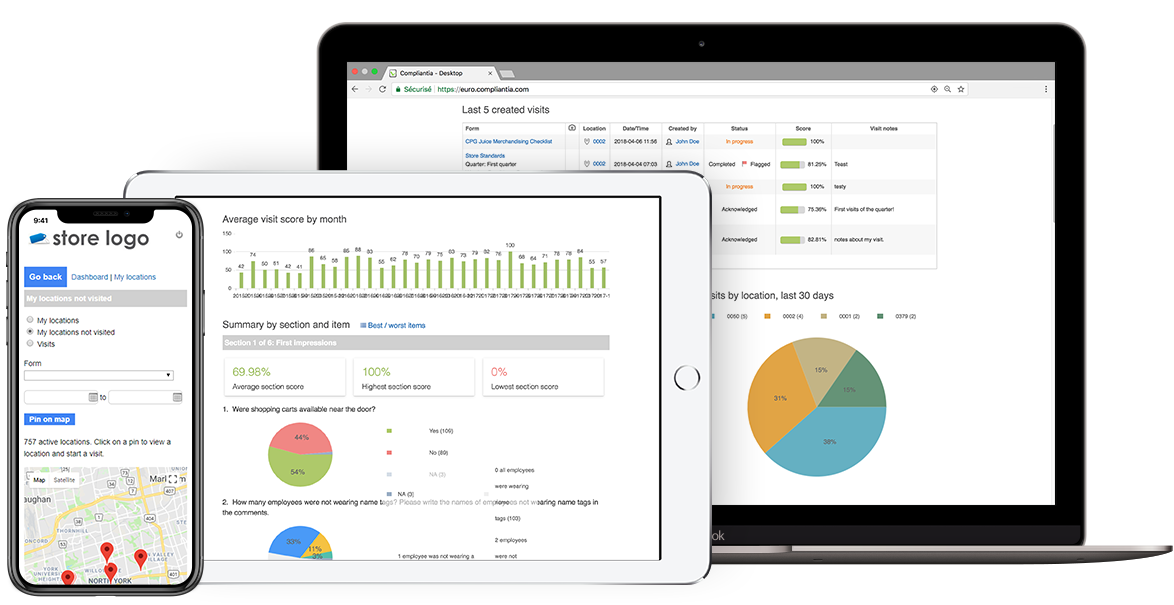 End-to-End Closed-Loop Audit Workflow
Built-in calendar, automated scoring, maps, action plans, signatures, notifications and reminders. Out of the box powerful reports, graphs and exports to PDF and Excel™. Enterprise ready with API access and Single Sign On.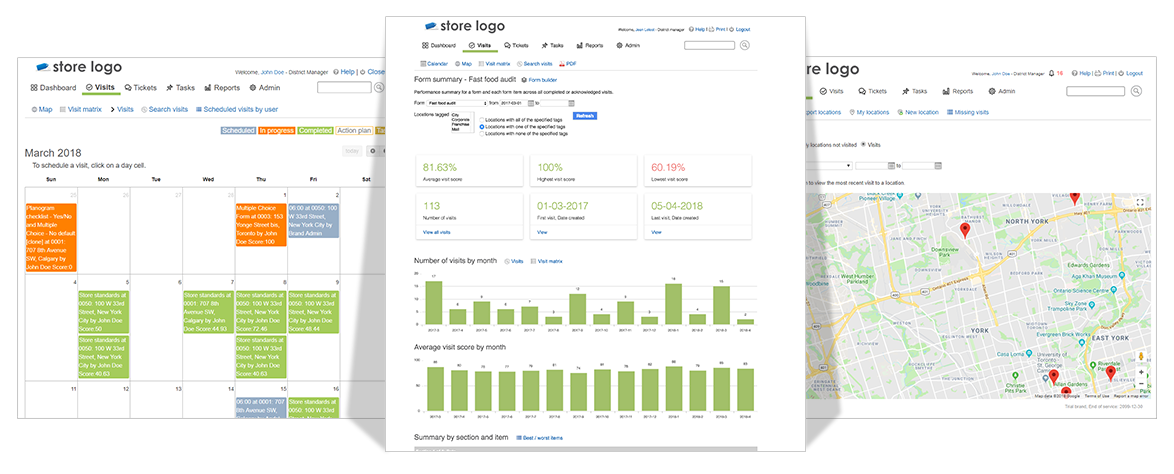 15 audits / month

$250 / month

Credit card billing
15 action plans
150 visit photos
15 visit attachments
15 tickets
15 tasks
Unlimited users
Unlimited logins
Unlimited reports
Online help
-
30 audits / month

$375 / month

Credit card billing
30 action plans
300 visit photos
30 visit attachments
30 tickets
30 tasks
Unlimited users
Unlimited logins
Unlimited reports
Online help
-
50 audits / month

$500 / month

Credit card billing
50 action plans
500 visit photos
50 visit attachments
50 tickets
50 tasks
Unlimited users
Unlimited logins
Unlimited reports
Online help
FTP / API
Yearly quota

Ask for pricing

Invoice billing
Action plans
Visit photos
Visit attachments
Tickets
Tasks
Unlimited users
Unlimited logins
Unlimited reports
Online help, Training, Support
FTP / API
Compliantia implements a complete retail audit workflow, including:
Smartphones, tablets and laptops
Online and offline
Calendar with Outlook™ support
Geolocation and maps
Electronic signatures with touch-screen
Automated scoring
Action plans (assign deficiencies for resolution)
Email notifications and reminders
Support for photos and attachments
Web and Excel™-based form builder
Graphical dashboard
Goals and KPIs
Import and export users and locations to Excel™
Advanced analytics and reporting
Permission-based access
Encryption in transit and storage
API access
Single Sign On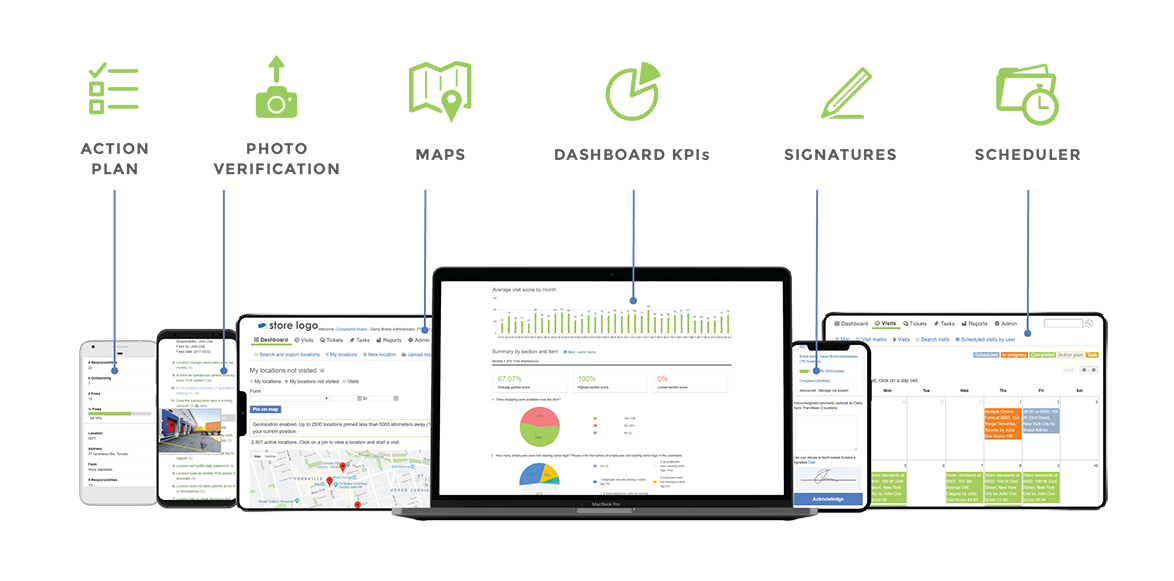 Save 1.7% of sales by auditing loss-prevention practices in your stores.
Mitigate health and safety risks and costs for customers and employees.
Ensure the store environment is conducive to a positive customer experience and higher sales.
Don't just report problems, close them! The action plan is an opportunity to apply corrective actions to problem areas.